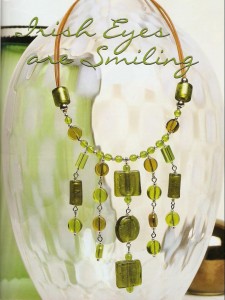 MATERIALS    :
2 x Greek Springs with Hook , Memory Wire , 1 x Parrot Clasp , 1 x Coil of Necklace , 1 x Extension Chain  , 5 x 50mm Headpins   , 12 x 50mm Eye pins  , 2 x 30 to 40cm lengths of  round leather    , 16 x 6mm Round Beads , 33 x Size 8 Silver Lined Seed , 4 x Greek Metal Spacer Beads , Filler Beads .

DESIGNER'S NOTE
This design used 36cm, of round leather, allow for some extra to be trimmed off if needed. For our large and medium Focal Beads, we've used large square and round fails, and medium sized fail tubes however, any beads of your choice will be suitable.
STEP ONE
Begin by making all of your drops first. There are 5 drops in all. The center drop and outside drops are mode using 3 joined sections, and the 2 middle drops have 4 sections.
STEP TWO
Make the base section first, using a headpin. Thread o 6mm round, large focal, 6mm round, and a seed bead onto head pin, then cut and form loop.
STEP THREE
Thread a seed, larger local, then a seed onto an eye pin, then cut and form loop.
STEP FOUR
Join base section to this section by opening the loop and joining them. Tip: To open a loop use 2 pairs of flat nose pliers to hold both side of loop and lightly twist one side toward your body and one side away from your body so the loop opens sideways – do not try to pull Loops open as they will not close again – when closing, do the same thing and your loops will close back up perfectly.
STEP FIVE
Make the top section in the same manner using an eye pin and treading a seed, 6mm found, large focal, 6mm round and a seed, and then cut and form loop. Join this section to the other 2 and you have formed your centre drop.
STEP SIX
Repeat this process to create the side drops. Each link in the side drops consists only of a seed, focal, then seed.
STEP SEVEN
Now you are ready to create the shank of your necklace. Using the Memory Wire begin to thread from the centre out.
STEP EIGHT
Thread the centre drop on first, then use o 3mm spacer either side of the bop which will help to hold it in place and stop it from being able to come off if your loop is not guile closed.
STEP NINE
Then thread a 6mm round, a 3mm spacer and a 6mm round, followed by a drop, and repeat this process until the drops are all
threaded, continue threading beads to fill out the sides.
It is important not to space the drops too far apart otherwise they will not hang properly.
STEP TEN
At this point you should hold the necklace up against the neck of whoever will be wearing to gauge whether it is long enough if not thread more side beads, but do not space the drops any further apart.
STEP ELEVEN
Using round nose pliers form a loop on one end; and then using Memory Wire Cutters cut the excess memory wire off, ensuring you
leave enough to form the loop on the other side (approx 8-10mm). Tip: Make sure you hold the beads tightly together, your drops
will work their way off the thin memory wire unless the eye pin loops are well dosed arid the beads sit firmly against them to prevent vertical movement.
STEP TWELVE
Thread your bother through the end loops and pull it bock evenly so you hove o double leather strand.
STEP THIRTEEN
Hold if against the neck to chock for length and trim leather as needed.
STEP FOURTEEN
Onto the leather, thread a Greek Metal Spacer, o medium Focal Bead, and another Greek Metal Spacer.
STEP FIFTEEN
Feed the 2 ends of the leather into a Greek Spring, and using either flat nose or chain nose pliers, crimp the lest coil of the spring firmly onto the leather so it bites in.
STEP SIXTEEN
Pull the first spacer down firmly over the leather that's threaded through the memory wire loop. Tip: This not only finishes the piece, but will stop the memory wire abrading the leather. The focal bead will just sit on top of the spacer.
STEP SEVENTEEN
Pull the second spacer firmly up over the feather so if clamps over the crimped coil of the spring. Spot with glue to hold it
permanently in place.
STEP EIGHTEEN
Using the 2 pairs of flat nose pliers, twist the hook on She spring to open it, and thread the parrot clasp, repeat on the other side and thread the extension chain, close the loops.